Jinga (ジンガ) is the prologue episode 00 to the 2018 series Fang of God: JINGA.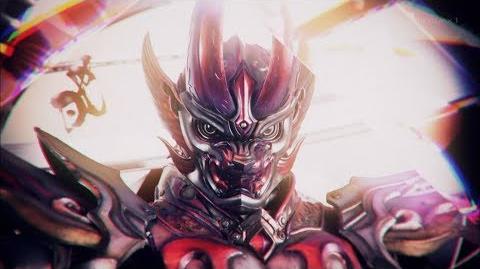 Fallen Knight Jinga fought against Messiah and lost. His spirit was lost in the darkness and somehow reborn back into the light. Born into the Mikage family, Jinga Mikage became a talented knight without any knowledge of his past life. He has become Shining Shadow Knight Rose and partnered with Makai Priestess Fūsa to stop the plague of Horrors. Six months prior to events, Jinga's father turned to darkness and killed his mother in front of him. Jinga was forced to cut down his own father, but Jinga's little brother was convinced it was Jinga that turned to darkness. Tōma witnessed Jinga slaying their father, but Tōma's memories were magically erased to protect him and his relationship with Jinga. After events, Jinga remains haunted over the fall of his parent's life.
Jinga had a new mission, to find and seal Nonloso, a Horror that specifically targets a mother's love for her children. Unfortunately, Jinga had a personal weakness against slaying a mother in front of children. Jinga had the chance to slay her when she just fed on a victim outside the diner, but he decided to let Nonloso go after witnessing the Horror bring food to her two kids. The following day, Jinga found the Horror at a baseball stadium and the two engaged in combat. In a difficult moment, visions of his deceased parents appear in front of him, but he overcomes his trauma and summons his armor to slay Nonloso. Afterwards, the children's memories were erased and Fūsa told him he passed by proving his mettle. The duo would later meet up with Tōma to travel together on a new mission.
Community content is available under
CC-BY-SA
unless otherwise noted.