Makai Armor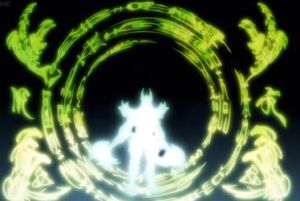 Kintoki's Makai Armor
Unknown Knights
Equipment
Tokiwaka's Armor is a cursed Makai Armor that specializes in dual axe combat. This armor appears in Crimson Moon.
Description & Characteristics
Because only the silhouette of the armor has been seen, not much is known about its appearance, but it's obvious that being titled armor, the armor has an ornate design.
For combat, the armor is armed with twin Makai Blades fashioned as axes that assume more powerful forms when the armor is donned. The exact ability of this armor is not revealed, but its current user, Kintoki, only used it few times due to it being cursed with the consumption of time, which made him gradually become younger and lose his memory to the point he was unable to age naturally. As a result, after donning the armor for one last time, Kintoki stopped donning the armor as it had reduced his appearance into that of a child. It's unknown whether the armor was eventually destroyed due to its dangerous curse or simply had no heir to inherit it.
History
TBA
Pics Gallery
Notes & Trivia
With the given silhouette and the use of dual axes, this armor closely resembles the Zanko Armor from Garo: Kami no Kiba Mezame.
Articles & References
TBA
External Links
TBA